Learn more about how to use Essential Oils in your life
to improve your wellbeing and support your body and mind
Essential Oils have been used by many cultures around the world for centuries, for a whole host of different purposes. You too can benefit from using these gifts from nature in your life, and the really great news is that it's never been easier to get pure and natural Essential Oils into your life.
I partner with dōTERRA for exactly that reason – the oils they produce are pure and clean and I know I can trust them. Every batch is 3rd party tested and put through a battery of tests to confirm purity.
Not only this but through dōTERRA's co-impact sourcing model, dōTERRA create partnerships with growers and farmers who have lived on the land for generations and ensure that both the people, and the land is treated with the love and respect they deserve. This ensures "clean" relationships as well as "clean" production methods, meaning that the actual oil we receive in the bottle is "clean" in every meaning of the word!
I am so grateful to have these pure and natural oils in my life, and I love the fact that they empower me to take care of myself and my family. I feel that using oils improves the quality of our lives, and ensures that I have options to support and help us feel better when life doesn't always go as planned.
With essential oils I can quickly and easily boost my mood if I'm feeling low, and on the other hand, if I need to wind down and relax, I can use oils to help me feel calmer, more relaxed, and if it's bedtime, ready for a good night's sleep.
My husband and I love having the oils in our toolkit as parents, and our children also love their oils which dōTERRA has made especially for kids. They use a blend called Brave when wanting to feel more confident and a blend called Calmer is their choice before bedtime.
There are SO many ways we can use Essential Oils, have a look at the most popular kits below and read what some of my clients have to say….
The 10 most useful oils for the home in one collection. These 5ml bottles are great to get you started.
This kit contains 5 ml bottles of:
Lavender
Lemon
Peppermint
Tea Tree
Oregano,
Frankincense
Air®
DigestZen®
On Guard®
Deep Blue®
dōTERRA Essentials Booklet
A convenient collection of the 10 most useful oils for the home (9 of which are
in the 15ml size) PLUS an ultrasonic diffuser which is one of the easiest ways
to use oils.
This kit
contains 15mL bottles of:
 Lavender
 Lemon
Peppermint
Tea Tree
Oregano,
Frankincense
Air®
DigestZen®
On Guard®
5ml bottle
of  Deep Blue®
 
dōTERRA Essentials Booklet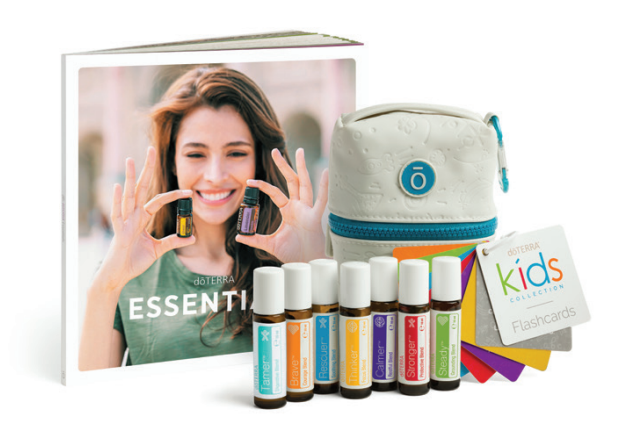 7 roller bottles, diluted and ready to roll directly onto your child's (or your own) skin.
Formulated specifically for developing minds, bodies, and emotions, these essential oil blends feature unique combinations balanced to provide powerful benefits while being gentle on delicate skin.
This kit contains 7  unique 10ml roll-ons of:
Thinker™
Calmer™
Stronger™
Tamer™
Rescuer™
Steady™
Brave®
Seven silicone toppers with carabiners
Instructional flashcards
Carrying case with carabiner
dōTERRA Essentials Booklet
Live your most powerful life.
Look good and feel good from the inside out! Wellness starts at a cellular level. Prepare to discover your 'power' and understand what 'personal wellness realised (PWR)' truly means. Designed to be used in a system, each MetaPWR product offers a speciality, while also supporting and enhancing the benefits of the other products.
MetaPWR Essential Oil Blend
MetaPWR Softgels
MetaPWR Beadlets
MetaPWR Assist
MetaPWR Advantage
There are many options when it comes to purchasing from dōTERRA. I am glad you are here as this means you have chosen me to guide you on this path. I always recommend opening an account with dōTERRA as this means not only will you have access to knowledge and support through me and my team, but you will enjoy prices 25% below the normal retail price. 
This is the most expensive way to buy oils. Why buy full price when you can get 25% or more off?!
Annual membership* that gives you access to the best prices – 25% below the retail. You purchase the membership for €25 inc. VAT / £24 inc. VAT and create a custom-made order.
The third way is below wholesale. Starter kits bundle together the most popular oils to give you the biggest savings, plus the price of the kit includes the annual membership fee* This is the smartest way to purchase your oils.
Follow these instructions to join dōTERRA and purchase at 25% below retail price
If you're like me, and would like to get the most for your money AND enjoy ongoing support in how to get the best from their products follow these steps to open an account. I'm already looking forward to supporting you on your essential oil journey!
1. Go to https://www.mydoterra.com/nourishingnature/#/joinAndSave
2. Scroll down and select JOIN doTERRA at the bottom left of the page.
3. Select language and country (if you're within Europe, first select Europe then choose your country).
4. Select your kit (includes free membership).
If you don't want an enrolment/starter kit, select Introductory Welcome Package to purchase the wholesale membership (gives you the 25% discount) and add whichever products you'd like to your cart. The 25% discount will be applied automatically.
 5. Fill in your personal details and Create your Account
You should see my name, Georgina Broendal, as your Wellness Advocate.
If not, enter my ID: 4901852 – this will connect you to my oils community
 6.  Enter your payment details and click Process order now.
That's it – your dōTERRA order box of wellness is now making its way to you, and will be delivered directly to your door!